Family Halloween Fun
Friday, October 27th through Sunday, October 29th 2017
OR Saturday, October 28th from 3:00pm-7:00pm
Registration Deadline: October 16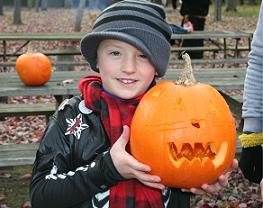 Halloween Family Fun Day
Join us on Saturday, October 28th for Halloween Family Fun at Lutherlyn for kids and families.
$12/person (*$60 max/family*)
3:00pm – Pumpkin Decorating/Carving, Hay Rides, Kid's Halloween Carnival, Craft, Marshmallow Roasting, Hike, Games
4:45 – All Saint's Worship
5:00 – Dinner 6:00 - Trick-or-Treating (kids 12 and younger)
7:00 – Go in Peace Each family will be asked to bring candy/items to pass out for trick-or-treating.
You will be notified how many kids to be prepared for prior to the event. Adults will be assigned a cabin to pass out treats from and Lutherlyn staff will take the kids around to trick-or-treat. Trick-or-treating is for kids who are 12 or younger.
Registration deadline is October 16th. *$60 max/family. A family is parents and children. If you are coming for the whole weekend, this afternoon of fun and fellowship is included in the weekend registration fee.
---
Fall Family Weekend
Enjoy a fall weekend with your family at Lutherlyn.  Cabins have 6 twin beds (4 bottom bunks and 2 top bunks), heat, and a full bathroom (sink, toilet, shower).  Registration fee includes lodging, meals, and all programming.  Family Halloween Fun Day is included in the weekend fee (details are listed above).  
Check-in Friday evening on October 27th, and stay until Sunday afternoon on October 29th.  A Full Tentative Schedule can be found in the brochure below.
Cost:  Includes lodging, meals, program activities, and supplies.  (You just need to bring bedding, towels and toiletries)
Adults: $110 per person
Kids (12-17 years old): $90 per person
Kids (6-11 years old): $60 per person
Kids (3-5 years old): $30 per person
Kids (2 and younger): free of charge
Family max: $350 (Family = kids & parents, additional friends/extended family pay the above rates)
Registration deadline is October 16th.  Full payment is due when registering.  Cancellations prior to October 1st will receive a refund minus a $40 cancellation fee.  Cancellations after October 1st are not refundable.  After the deadline, you will receive a letter with the schedule, the number of treats to bring for trick-or-treating, and other details.  Sign-ups and payment for horseback riding and rock climbing will be during check-in Friday.  List food allergies/restrictions with registration.  Weekend is Rain or Shine.
---
Halloween Fun & Fall Family Online Registration
Cancellation Policy: A non-refundable cancellation fee is in effect for cancellations made within 14 days of the scheduled retreat.
Please complete the form below - Fields in red are required.