Woodland Forge at Lutherlyn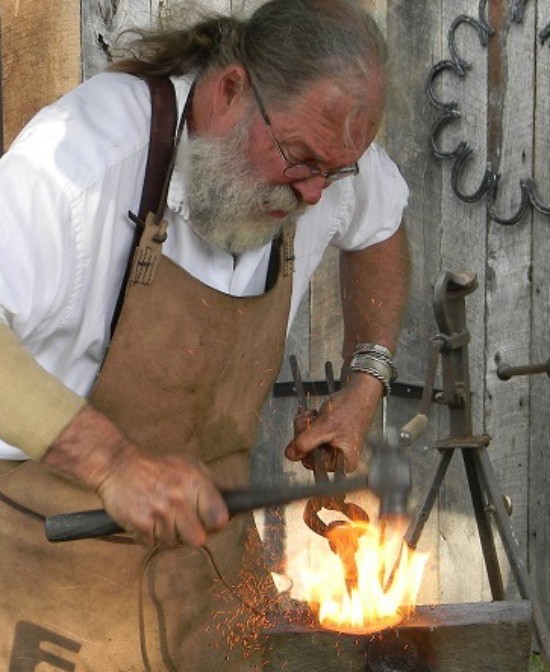 The Woodland Forge is  designed to bring opportunities for creative expression, arts education, and new skills.
The Forge:
The Blacksmithing Forge can accommodate 4 students.  
Meals are prepared by our chef and served buffet style in our dining room.  Our chef and staff can accommodate dietary requirements as necessary.  Please include any dietary requirements with your registration form.  Our chef may contact you for additional information shortly before your visit.
The Classes:
Beginner Blacksmithing – This class is an introduction to using the forge, hand tools, vise, and anvils.   It will start you on the path to developing the core skills of smithing: drawing, tapering, hot cutting, hot punching, forge welding, bending, twisting, scrolls and leaves.  All materials and supplies are included.
The Instructor:
Flavius Brinsfield (featured in the photo above) provides hands-on instruction in the Woodland Forge at Lutherlyn, guiding students through their blacksmithing journey.  Flavius has been shaping iron for nearly 50 years. With a love of fire, iron and hammers he pursues the tradition of the village blacksmith. "It's fun and mesmerizing to get something hot, beat it into submission, and come up with cool stuff that is useful, practical and pretty."
2018 Class Schedule
All Blacksmithing Classes are 9 am - 5 pm and include lunch for $120 per person. 
When registering, indicate your first and second choice dates on your registration form.  You will receive a confirmation with your class date and other important details.
2018 Class Schedule
September 22, 2018
October 20, 2018
November 17, 2018

2019 Class Schedule
January 26, 2019
March 23, 2019
April 27, 2019
September 7, 2019
November 23, 2019
Additional Opportunities:
Groups of adults can reserve a full class session for a private party or contact Lutherlyn to schedule a private event.
Cancellation Policy:
Cancellations will be accepted up to 14 days prior to the class with a $40 cancellation fee.  Within 14 of the scheduled class, refunds will not be given unless there is an emergency.
---
Blacksmithing Class Registration Form
Please complete the form below to register for a class at the Woodland Forge at Lutherlyn.  Fields with a * are required.